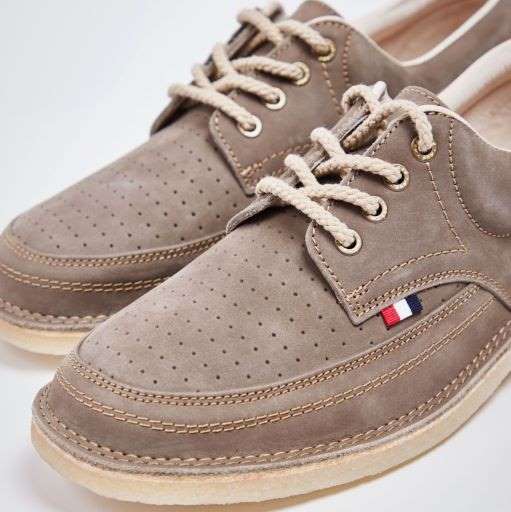 The 1977 Jubilee Flag
Let me tell you a tale that we found out recently whilst having a brew with the founders of POD…
The woven tab came about during the design of the iconic Gallagher as a way to create a point of difference.
They went on the search for a woven label and they came across the red, white and blue material from over-cuts from the Queen's Silver Jubilee in 1977.
Fancy that. How could we not bring it back after hearing this?
Mr. POD Fob
IT'S MORE THAN JUST A SHOE TAG.

First introduced back in the 1970's, our brand mascot, Mr. POD, is an integral part of our history.
A bedrock of the POD Originals experience, the signature Mr POD fob accompanies every pair like a stamp of approval from the founders themselves. Iterated over the decades in a kaleidoscope of colours and materials, the fob marks each Original product as iconic, authentic, and individual.
CREPE SOLES
A crepe sole is popular because it promotes a natural way of walking, standing and wearing shoes which is good for your feet. They're more flexible than other types of soles, such as rubber, so are more comfortable.
A crepe sole is made from layers of coagulated latex, sometimes called 'crepe rubber', which gives them a unique texture that's more porous than many other kinds of soles. It also makes them more flexible, so crepe sole shoes are more comfortable than many other choices.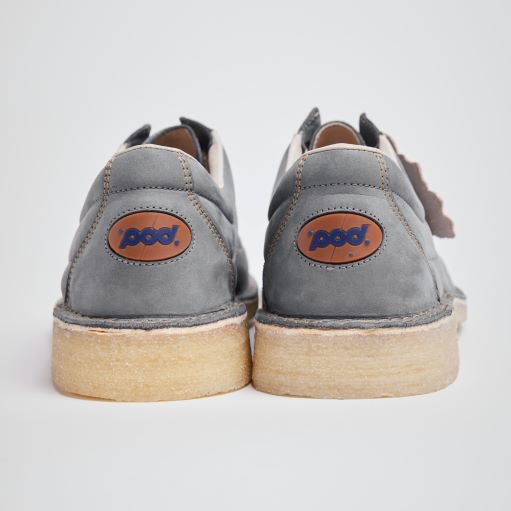 POD Original Construction
The Jagger is POD's most iconic design and was first produced in 1976.
The unique features of this silhouette include heavy mudguard twin stitching, a crepe sole unit (or a PU sole unit if the Lennox is more your bag) and a stitch-out design, which creates a versatile, comfortable, and a pretty darn unique shoe.